Local Attractions
All driving distances and times are approximate.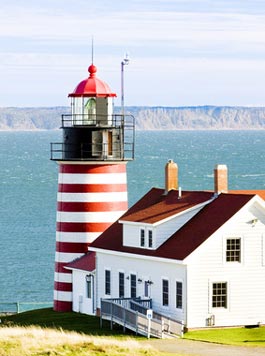 West Quoddy Head Light
State Parks
Just a short distance away!
Quoddy Head State Park - Lubec, Maine
532-acre park with hiking trails, extensive forests, bogs, habitat for rare plants, and the West Quoddy Head Light lighthouse tower.
(39 miles, 53 minutes)
Moosehorn National Wildlife Refuge - Baring & Edmunds, Maine
Refuge and breeding ground in the Atlantic Flyway for migratory birds, endangered species, and other wildlife. The refuge offers camping, fishing, hiking, and canoeing.
(31 miles, 45 minutes)
Roosevelt Campobello International Park - New Brunswick, Canada
Former summer home of Franklin D. Roosevelt, now a 2800-acre memorial park and nature preserve. Enjoy guided tours, trails, gardens, picnic opportunities, and observation decks for viewing whales, porpoise, and seals.
(41 miles, 1 hour)
Hiking Trails
We're centrally located for Down East hikes!
Great Wass Island Nature Conservancy trail - Near Beals Island and Jonesport, Maine
(21 miles, 32 minutes)
Quoddy Head State Park - Lubec, Maine
(39 miles, 53 minutes)
Bold Coast Trail - (Cutler Coast Public Reserved Land) - Cutler, Maine
(25 miles, 40 minutes)
Roque Bluffs State Park - Roque Bluffs, Maine
(8 miles, 10 minutes)
Petit Manan Wildlife Refuge - Birch Point Trail - Steuben, Maine
(31 miles, 47 minutes)
Golf Courses
Two golf courses just minutes away!
Barren View Golf Course - Jonesboro, Maine
(1.5 miles, 2 minutes)
Great Cove Golf Course - Roque Bluffs, Maine
(3.5 miles, 8 minutes)
Boat Tours
Explore coastal Maine from the water!
Bold Coast Charter Co. - Cutler, Maine
Departing from scenic Cutler Harbor, Capt. Andrew Patterson offers boat tours along the rugged Downeast coastline. Take a half-day excursion to Machias Seal Island to view Puffins and other island birds, or a sightseeing tour with opportunities to see lighthouses, whales, seals, and seabirds.
(25-30 minutes)
Coastal Cruises & Dive Downeast - Jonesport, Maine
Cruise amongst the islands of the Moosabec Reach with Capt. Laura Fish. Get close to birds and wildlife, and possibly see a lobsterman hauling traps. The Day Charter offers an on-island picnic and possibility of visiting Moose Peak Light. Diving tours are offered by Dive Masters, Harry Fish and Aaron Fish Herzog.
(13 miles, 17 minutes)
Downeast Coastal Cruises - Milbridge, Maine
Captain Harry "Buzzy" Shinn offers a variety of coastal cruises to view islands, lighthouses, puffins, eagles, seals, and other wildlife, or enjoy a lobster feast. Custom half-day and full-day cruises also available.
(22 miles, 30 minutes)
Pleasant River Boat Tours - Addison, Maine
Join Capt. Paul Ferriero on a cruise amongst the islands viewing lighthouses, observing marine mammals and sea life. This "birder's paradise" offers opportunities to view Bald eagles, ospreys, puffins, ducks, and other sea birds. Watch lobstermen ply their trade and maybe catch a lobster yourself.
(11 miles, 16 minutes)
Robertson Sea Tours - Milbridge, Maine
Cruises offered by Capt. James Robinson include a puffin and seabird cruise, a whale watch cruise, a lobster bake cruise, and the "Maine" cruise that includes lobster fishing and viewing of seals, eagles, and the islands. Customized private charters also available.
(16 miles, 19 minutes)